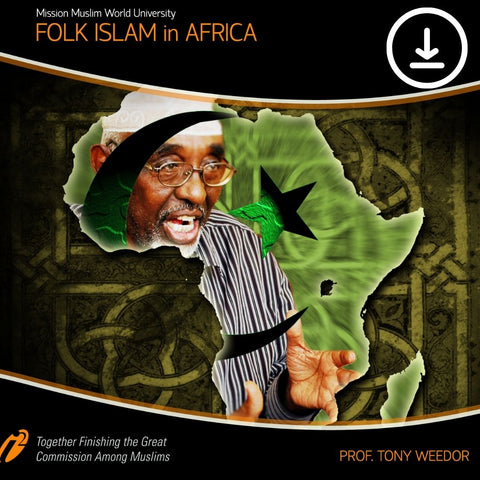 Folk Islam in Africa - Video Course - Tony Weedor
PROFESSOR

Prof. Tony Weedor 
SESSION IN THIS COURSE - 10 Hours
SESSION 1 Folk Islam - Part 1 and 2
SESSION 2 Folk Islam - Part 3 and 4
SESSION 3 Folk Islam - Part 5 and 6
SESSION 4 Folk Islam - Part 7 and 8
SESSION 5 Methods of Worldview Evangelism and Discipleship - Part 1 and 2
SESSION 6 Methods of Worldview Evangelism and Discipleship - Part 3 and 4
SESSION 7 Methods of Worldview Evangelism and Discipleship - Part 5 and 6
SESSION 8 Sufi Islam - Part 1 and 2
SESSION 9 Sufi Islam - Part 3 and 4
SESSION 10 Sufi Islam - Part 5 and 6
FOLK ISLAM IN AFRICA
In this presentation, Prof. Tony Weedor explains the foundation of Islam in Africa including Folk Islam, Sufi Islam, and how pre-Islamic roots affected how Islam grew and changed in Africa.   This will help the missionary better understand how to effectively evangelize Muslims with African heritage.
PROF. TONY WEEDOR
Anthony Weedor was born in the West African state of Liberia, a small country founded by freed slaves from America in July of 1847. He became a Christian in the early 80s through the ministries of Serving In Mission (SIM).  He worked in Bomi Hills as an Evangelist and church planter. He graduated from the African Bible College with a B.A. in Biblical Studies, with an emphasis in Radio Broadcasting.  In August of 88 he was appointed Director of Muslim Ministries for West Africa with SIM. In 1989, when the Liberian civil war broke out, he and his family walked for one year to La Cote d'Voire to escape. They lived in Cote d'Ivoire for three and half years in a refugee camp.
His family moved to the states in 1993 so he could study at the Denver Theological Seminary. He earned a Master of Divinity degree with emphasis in Philosophy. After graduation, his family moved to Ethiopia as missionaries with SIM. After spending more than four years ministering among pastors and teaching at the Evangelical Theological College.  He then returned to Denver Seminary as an Adjunct Professor in the Philosophy department in 2006. He continued work with SIM as research director on Islam. In 2009, he began work on his Doctor of Philosphy, which is still in progress.